Shaped into pretty bonnets with pastel toppings, these sweet treats are too good to pass by and are sure to be a talking point among family and friends
With the coronation of King Charles III scheduled to take place on 6 May 2023 at Westminster Abbey, thoughts turn to preparations for the celebrations. Street parties have become a long-standing tradition to commemorate royal events, with residents coming together for an afternoon tea in the sunshine. For those that are not sure what to bake, these bonnet biscuits are both decorative and tasty, and are sure to catch the eye on any food spread. Find our simple recipe below.
Makes 12
300g plain flour, plus extra for dusting
60g caster sugar
175g chilled unsalted butter, cubed, plus extra for greasing
100ml double cream
370g icing sugar, plus 1 tsp to fix flowers
1 tsp vanilla bean paste
½ tsp red food colouring
½ tsp yellow food colouring
12 yellow and white violas
20 x 30cm oven tin
7cm circular cookie cutter
11in (28cm) each of thin yellow, white and pink ribbon
Preheat the oven to 170°C/gas mark 3 and grease and line the oven tin. In a large bowl, mix together the flour and caster sugar, then add the butter. Rub the butter into the mixture with the fingertips until fully integrated. Squeeze the mixture together by hand until it becomes moist and bring together into a dough.
This will take approximately 5 mins.
On a surface lightly dusted with flour, roll out the dough to approximately ½cm thick. Using the cookie cutter, cut 12 circles, discard the remaining dough, then place the circles on the prepared tray. Bake for 15-20 mins until a light golden colour. Allow to cool.
In a large bowl, whisk the cream with an electric whisk for 2-3 mins until thick. Whisk in 70g of the icing sugar and the vanilla paste, then transfer to a piping bag fitted with a large smooth nozzle. Pipe approximately 1 tbsp into the middle of each biscuit to make a hat shape. Chill the biscuits for 15 mins.
Place the remaining icing sugar into a mixing bowl and add 55ml of water to make a smooth paste-like icing. Transfer half of the icing to a clean bowl and add the red food colouring, then add yellow colouring to the other half. Stir thoroughly to obtain consistent colours. Place the cooled biscuits on a sheet of baking paper. Spoon 1 tbsp of pink icing each on the top of half of the hats and allow to cover the entire biscuit. Ice the other half of the biscuits with the yellow icing. Allow to dry, uncovered, for 2-3 hrs.
Once the hats are dry, cut four lengths of each ribbon, dip them briefly in cold water and tie around the hats. Mix the 1 tsp of icing sugar with a drop of water and dab on the back of the flowers to fix them to the hats. Leave to dry for 10 mins before serving.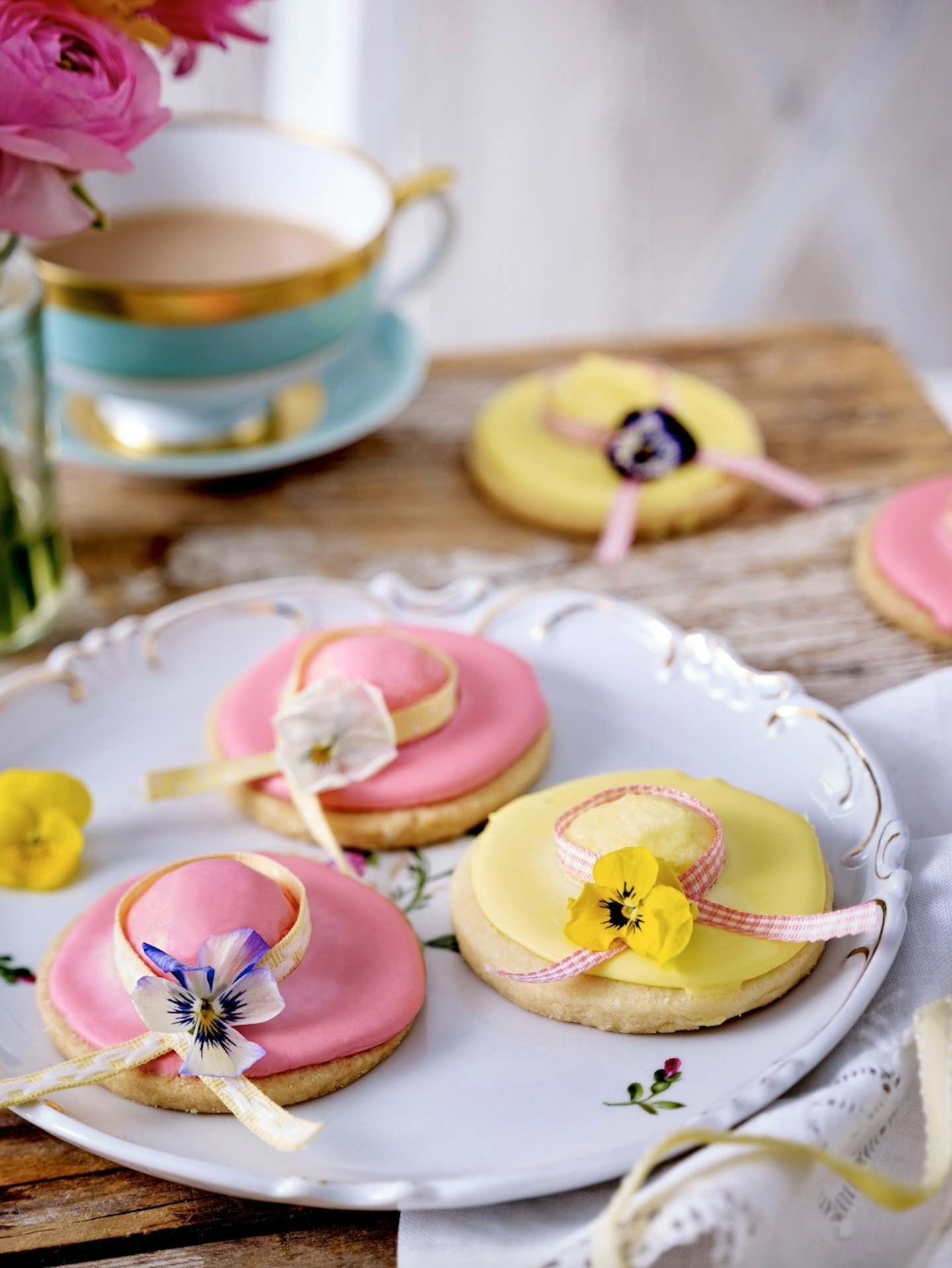 Recipe: Liz O'Keefe; Photography: House of Food
Become a LandScape member
Every edition of Land_Scape_ showcases the best Britain has to offer, including delicious recipes, inspirational gardens and step by step craft projects. Become a Member from 99p today!
Description
Indulge your love of the British countryside by becoming a LandScape member. Our exciting new