The traditional Easter bunny is the inspiration behind these seasonal bakes to make delicious tarts, filled with chocolate ganache and sprinkled in icing sugar
Makes 12
175g chilled butter, cubed, plus extra for greasing
350g plain flour, plus extra for dusting
60g caster sugar
1 egg yolk
115ml double cream
300g 85% cocoa solids cooking chocolate
icing sugar, to dust
In a large bowl, combine the butter with the flour and sugar, then rub the butter into the dry ingredients to make fine crumbs. Stir in the egg yolk and 2 tbsp of ice-cold water and bring together with a spoon. Knead until the pastry comes together into a smooth dough. Cover with cling film and chill for 20 mins.
To make the chocolate ganache filling, heat the cream in a saucepan until lukewarm. When it is just about to simmer, break in the cooking chocolate. Keep on a very low simmer for approximately 2 mins, stirring until the chocolate melts and the mixture thickens. Allow to cool.
Preheat the oven to 200°C/gas mark 6. Roll out the pastry on a surface lightly dusted with flour. Cut out 12 circles with a pastry cutter to line a 12-hole cupcake tray. Bring the off-cuts together and roll out. Cut out 12 slightly smaller lids for the tarts, dusted with more flour if necessary. Stamp out a bunny shape on each of the lids with a small cutter, or cut out by hand with a sharp knife. Grease the tray with butter, then line with the pastry bottoms. Fill the tarts with a heaped teaspoon of the ganache then fit the pastry tops. Press down gently on the edges to fix them.
Bake for 20 mins until golden and cooked through. Allow to cool, then dust with icing sugar. Cover the bunny shapes with the back of a teaspoon to keep the chocolate ganache from being covered in icing sugar. Serve.
Wrapped in a pretty box, they make lovely Easter gifts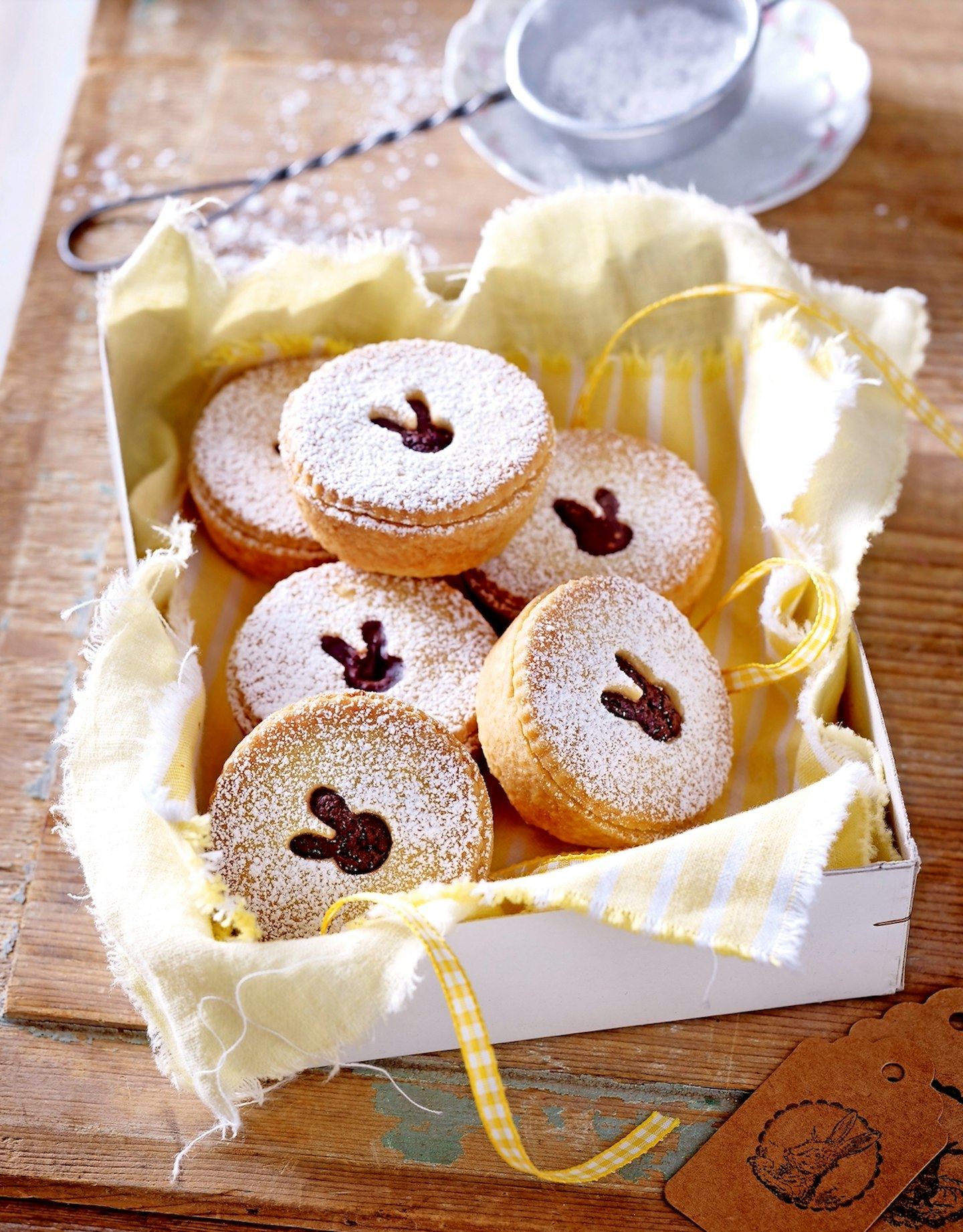 Recipe: Liz O'Keefe; Photography: House of Food
Become a LandScape member
Every edition of Land_Scape_ showcases the best Britain has to offer, including delicious recipes, inspirational gardens and step by step craft projects. Become a Member from 99p today!
Description
Indulge your love of the British countryside by becoming a LandScape member. Our exciting new