Said to have been made in celebration of the monarch's coronation, this impressive sponge is layered in cream and bejewelled with berries, perfect for The Queen's Platinum Jubilee
Serves 10
250g unsalted butter, softened, plus extra for greasing
225g caster sugar
5 eggs
250g self-raising flour
2 tsp baking powder
zest and juice of 1 lemon
25g honey, plus extra for drizzling
400ml double cream
400g fresh summer fruits, such as strawberries, blueberries and raspberries
fresh mint leaves
2 x 20cm loose-bottomed tins
Preheat the oven to 180°C/gas mark 4 and grease and line the tins. In a large bowl, cream together the butter and sugar with the back of a wooden spoon for 2-3 mins until smooth and fluffy.
Mix in the eggs, one at a time, making sure each is incorporated fully before adding the next. Place the flour and baking powder in a separate bowl and sift 2 tablespoons at a time into the batter. With each flour addition, fold the mixture over the flour, incorporating air as well. Add the lemon juice and honey, and mix in.
Divide the cake batter equally between the two tins and bake for 30 mins until risen and golden, and an inserted table knife comes out clean. Allow the cakes to cool within the tins for 30 mins, then remove and place on wire racks to cool completely.
When the cakes have cooled, place the double cream in a large bowl and whisk with an electric whisk for 2-3 mins until it is thick enough to be piped. Mix the lemon zest into the cream.
Place one cake layer on a serving plate and spread half of the cream over the top of it, smoothing out with a spoon to the edges of the sponge. Drizzle with honey, then top with the other cake layer, flat side up.
Take a quarter of the remaining cream and spread thinly over the top of the cake like icing.
Fill a piping bag with the remaining cream and pipe rosettes around the edge of the spread cream. Arrange the fruit within the circle and dot rosettes of cream throughout the fruit. Decorate with the mint, drizzle with more honey, then serve.
 "The spirits of the air live on the smells
Of fruit; and Joy, with pinions light, roves round
The gardens, or sits singing in the trees" 

William Blake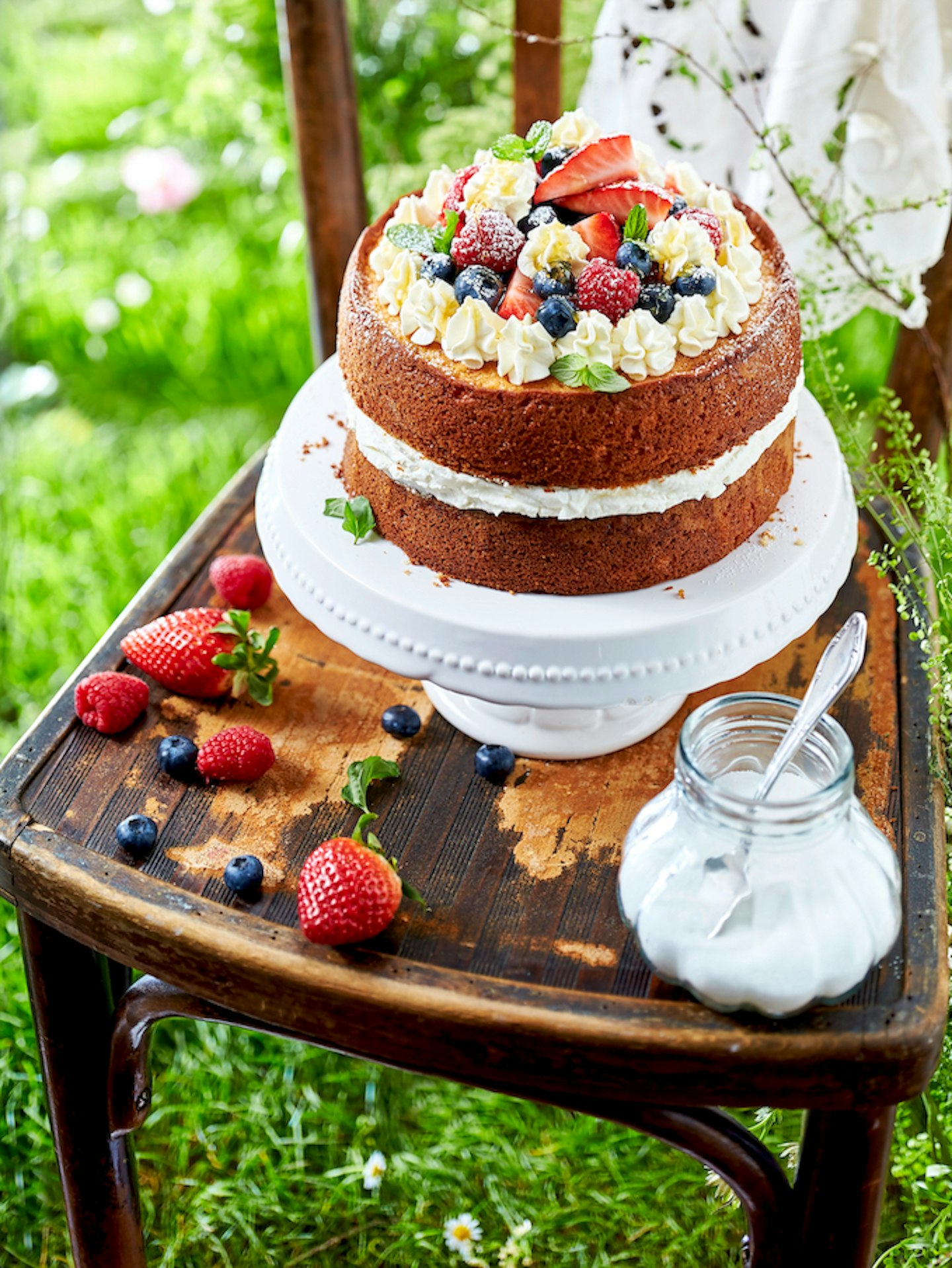 Every edition of Land_Scape_ showcases the best Britain has to offer, including delicious recipes, inspirational gardens and step by step craft projects. Become a Member from 99p today!