As summer heralds sunny days, what better way to enjoy the outdoors than with a picnic made for sharing
Makes 25
6 eggs
1 rosemary sprig, chopped
1 tbsp chopped fresh oregano, plus extra leaves to garnish
1 pinch saffron (optional)
6 tbsp olive oil
500g potatoes, peeled and sliced
1 onion, peeled and finely chopped
3 garlic cloves, peeled and finely chopped
1 courgette, trimmed and chopped
1 red pepper, deseeded and diced
1 red chilli pepper, deseeded and diced
1 shallot, peeled and chopped
2 tsp capers
2 tbsp sugar
1 tbsp chopped fresh basil
sea salt and black pepper
25cm ovenproof frying pan
small jar with lid
Preheat the oven to 200°C/180°C fan/gas mark 6. In a large jug, whisk together the eggs, rosemary, oregano and saffron, if using. Season with salt and pepper.
Heat 2 tbsp of the oil in the ovenproof pan. Add the potatoes and fry for 5-8 mins, turning regularly, until golden. Set the potatoes aside on a plate. Add another 2 tbsp of oil to the pan, then fry the onion, 2 of the garlic cloves and the courgette for 4-5 mins until softened. Add the potatoes back to the pan, then pour over the egg mixture. Bake for 20-25 mins until set. Allow to cool.
In the meantime make the red pepper chutney. Pour the remaining oil in a saucepan and fry the remaining garlic, the red pepper, chilli pepper and shallot for 3-4 mins until softened. Transfer to a food processor and add the capers, sugar and basil. Season, then blend until a chunky consistency. Transfer to a jar to serve or transport.
Turn the egg fritter onto a chopping board, then cut into 25 squares. Serve, garnished with oregano leaves and black pepper, and accompanied by the chutney.
The Mole begged as a favour to be allowed to unpack it all by himself

Kenneth Grahame, The Wind in the Willows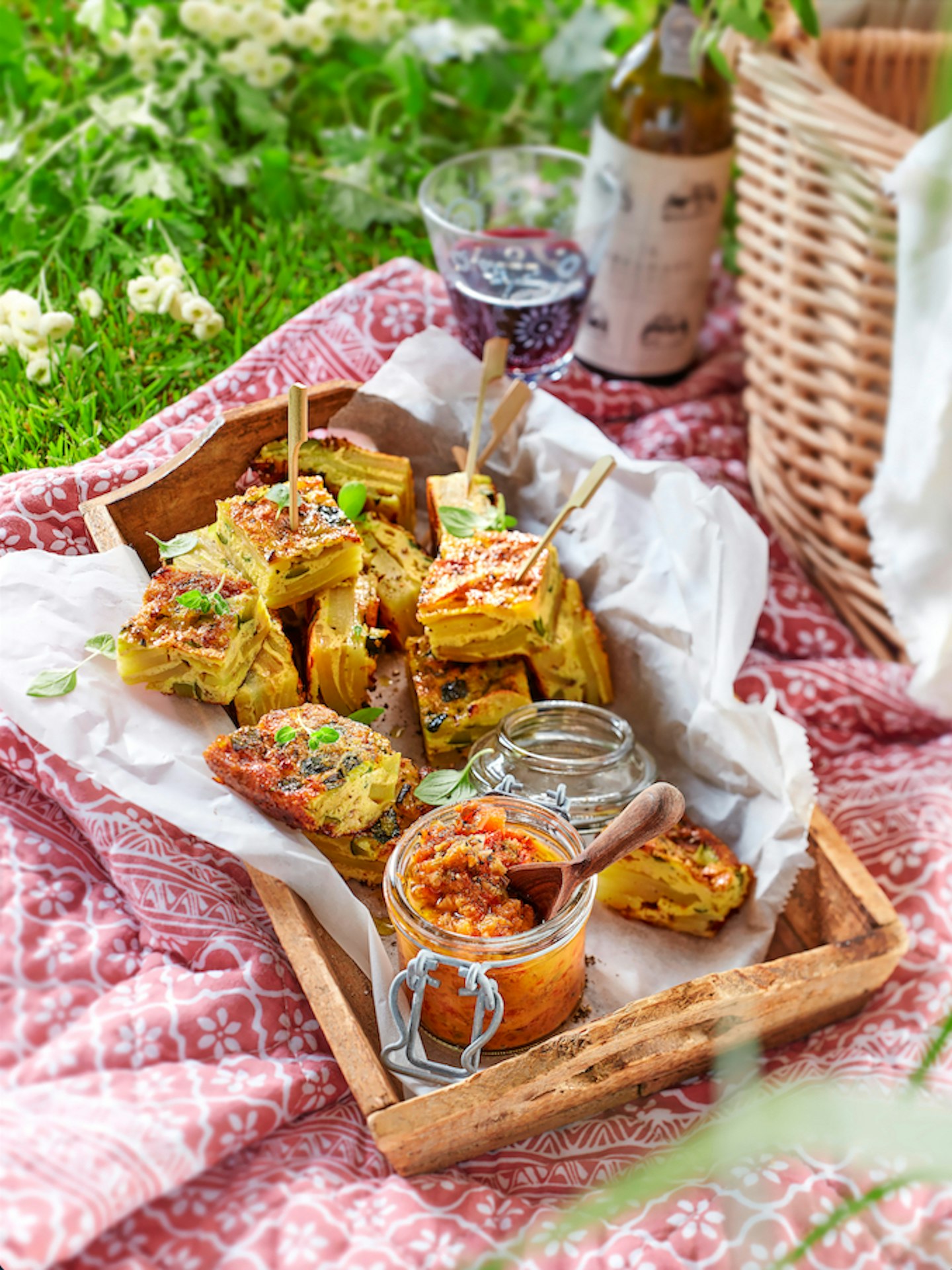 Try our other picnic recipes now!
Description
These tarts can be included in a feast made for sharing to enjoy outdoors
Description
Bursting with summer flavour, tomatoes add tang and vibrant colour to summer recipes
Description
Sweet and airy, these pretty meringue desserts bring the colours of the season to a summer tea
Description
Creamy, sweet and tangy, summer slices are made for sharing on a sunny day