Woven from greenery and berries, this wreath provides a place to hang a variety of bird food to feed feathered friends
Strands of fir twigs and ivy vines can be used to create an attractive bird wreath feeder. Colour is added by weaving in holly berries and small fruit. Suitable food, such as peanuts, apples and a sunflower heart, is strung from garden twine to help sustain the birds through the colder months. This is hung from the wreath. Nuts are slotted into open fir cones, providing both decoration and food. Finally, holes are made in small branches to hold easy-to-make, nourishing fat sticks to eat.
Materials
• Flexible twigs and vines
• Fir strands and ivy vines
• Sprigs of holly with leaves and berries
• Small branch
• Two home-made fat sticks
• Peanuts
• Small apples
• Sunflower heart
• Fir cones
• Drill and 28mm spade bit
• Bodkin or darning needle
• Garden twine
• Piece of flexible wire
• Picture-hanging eye with screw
How to make the wreath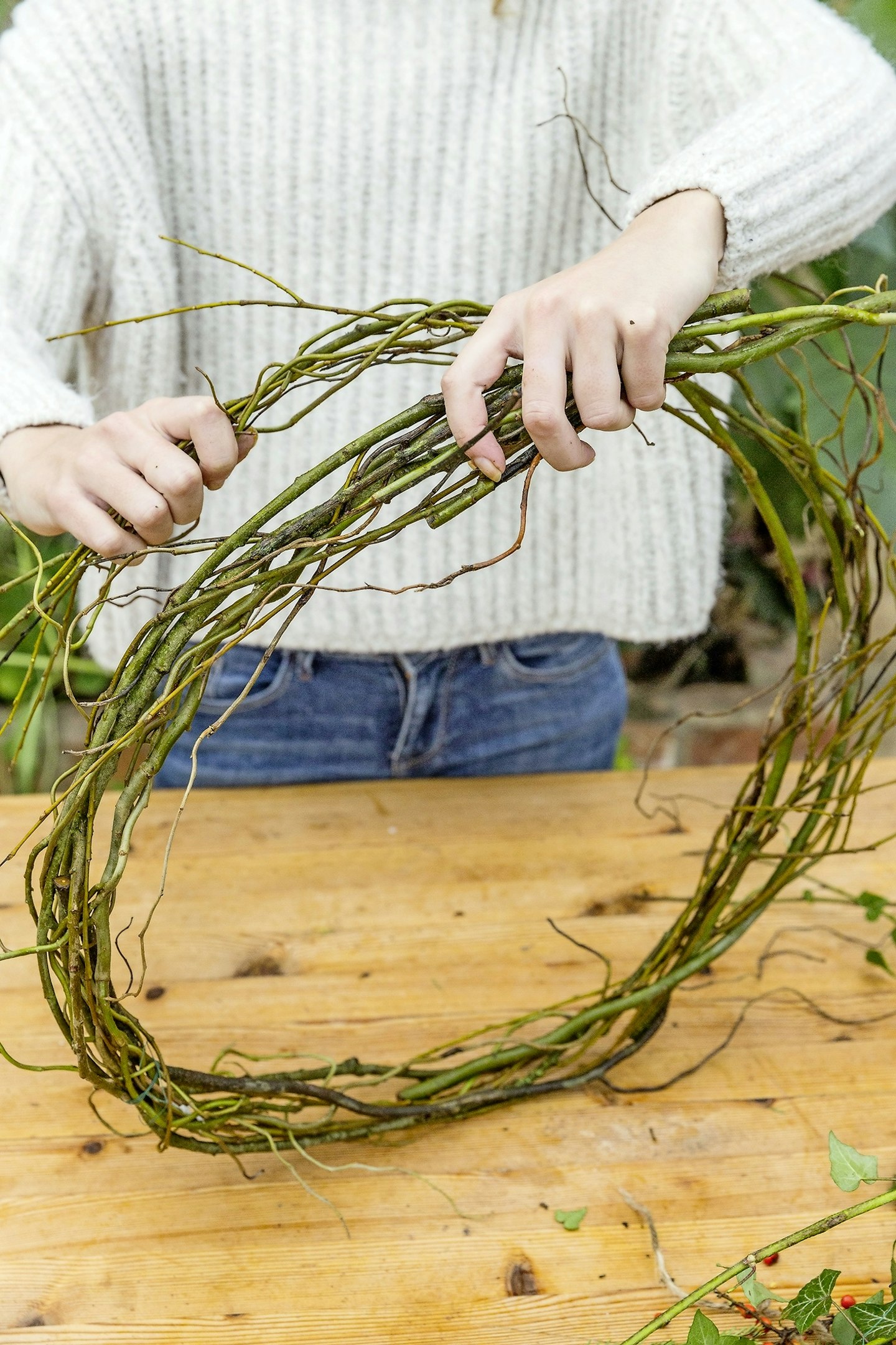 Step 1: Flexible twigs, such as willow and prunings, are twisted and plaited together to a length of approximately 5ft (1.5m) to create the main structure of the bird wreath feeder. The two ends are curled together to produce a circle 12-18in (30-45cm) in diameter.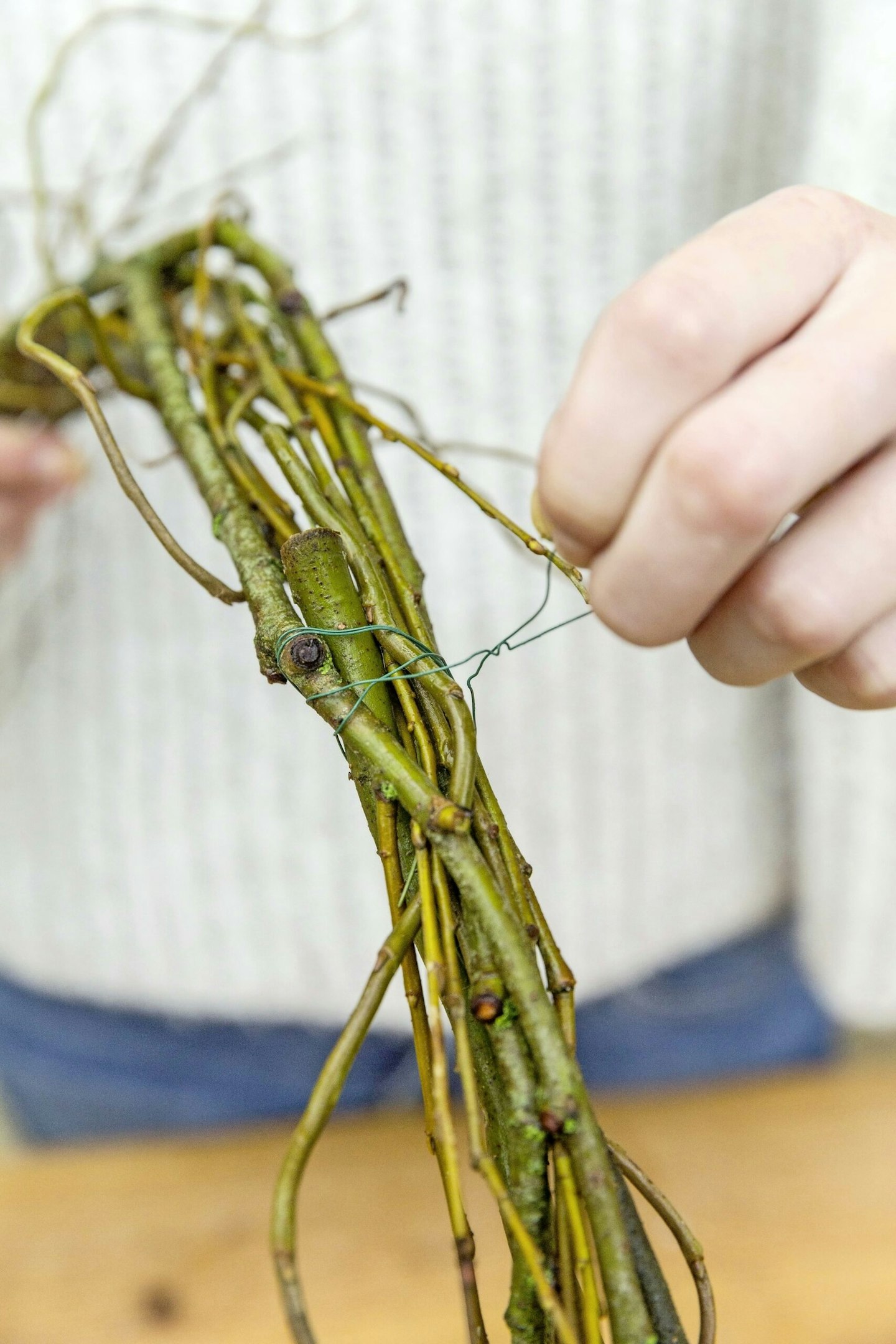 Step 2: The two ends are woven together and secured with florists' wire. Further prunings are woven around the circle.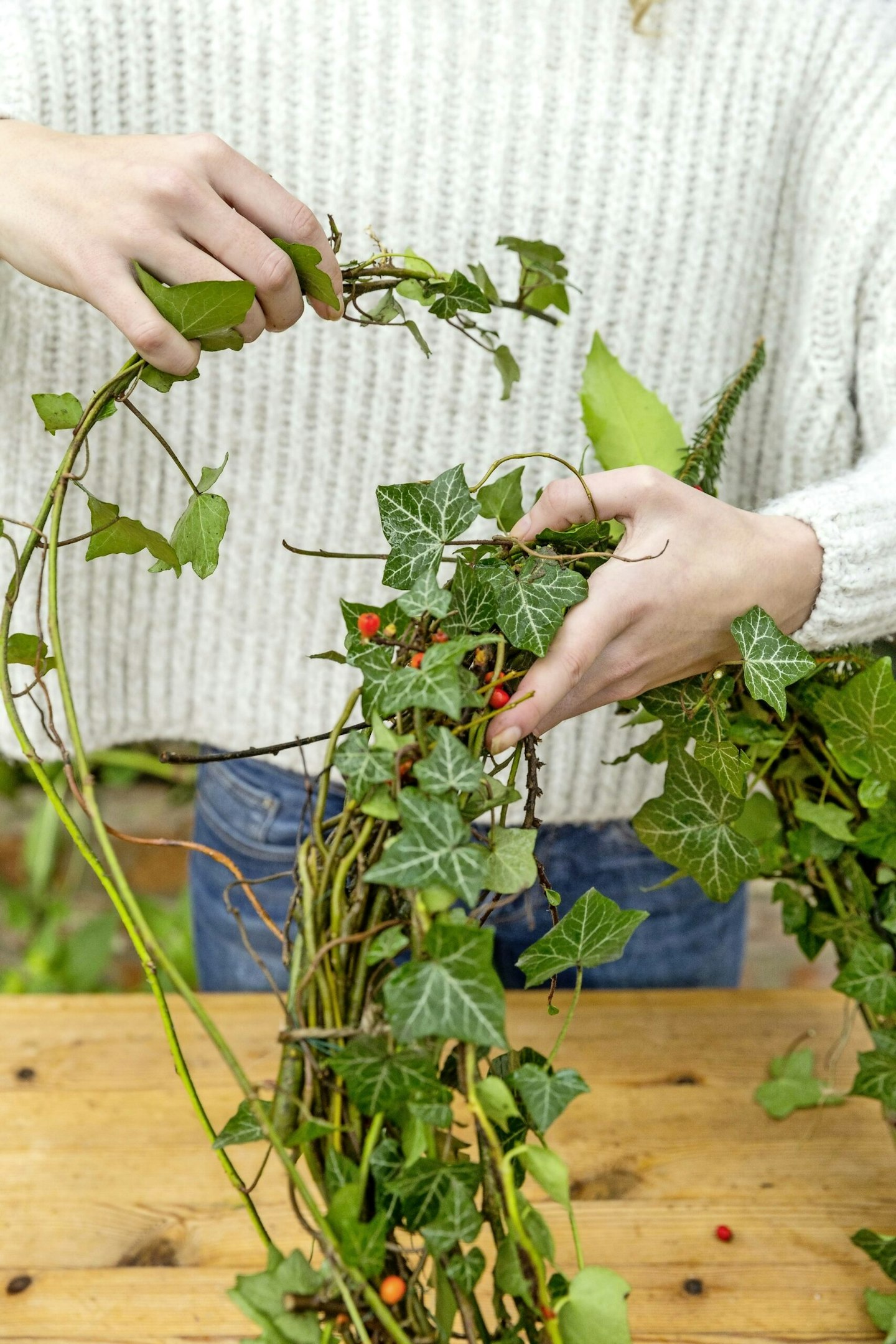 Step 3: Strands of ivy and fir are now intertwined with the main wreath. Sprigs of holly with berries and leaves are threaded in between the woven twigs.
Threading the bird food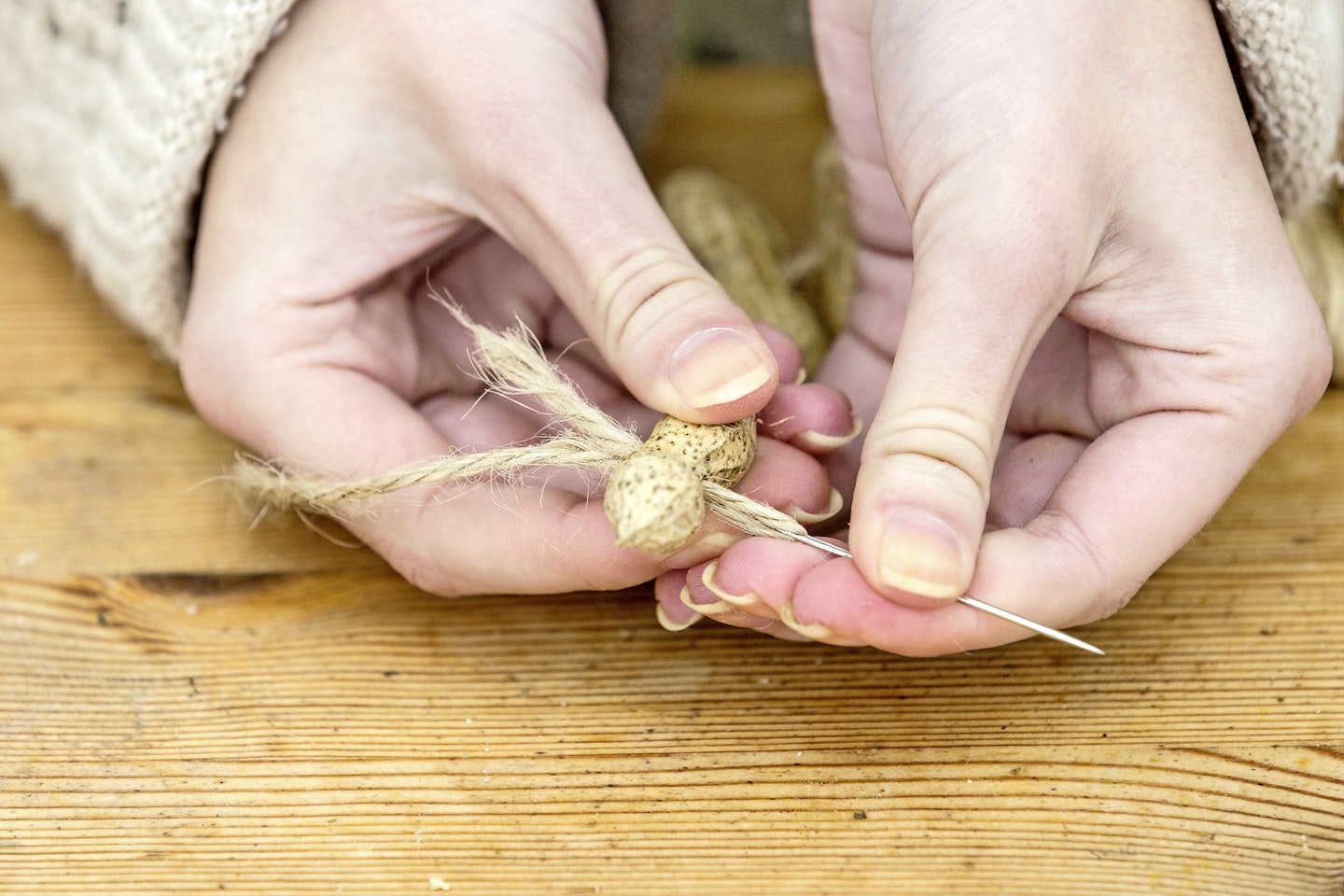 Step 1: A bodkin or darning needle threaded with garden twine is pushed into the centre of a peanut shell, between the nuts. The twine is then pulled through the nut. A knot at the bottom of the twine keeps the food on.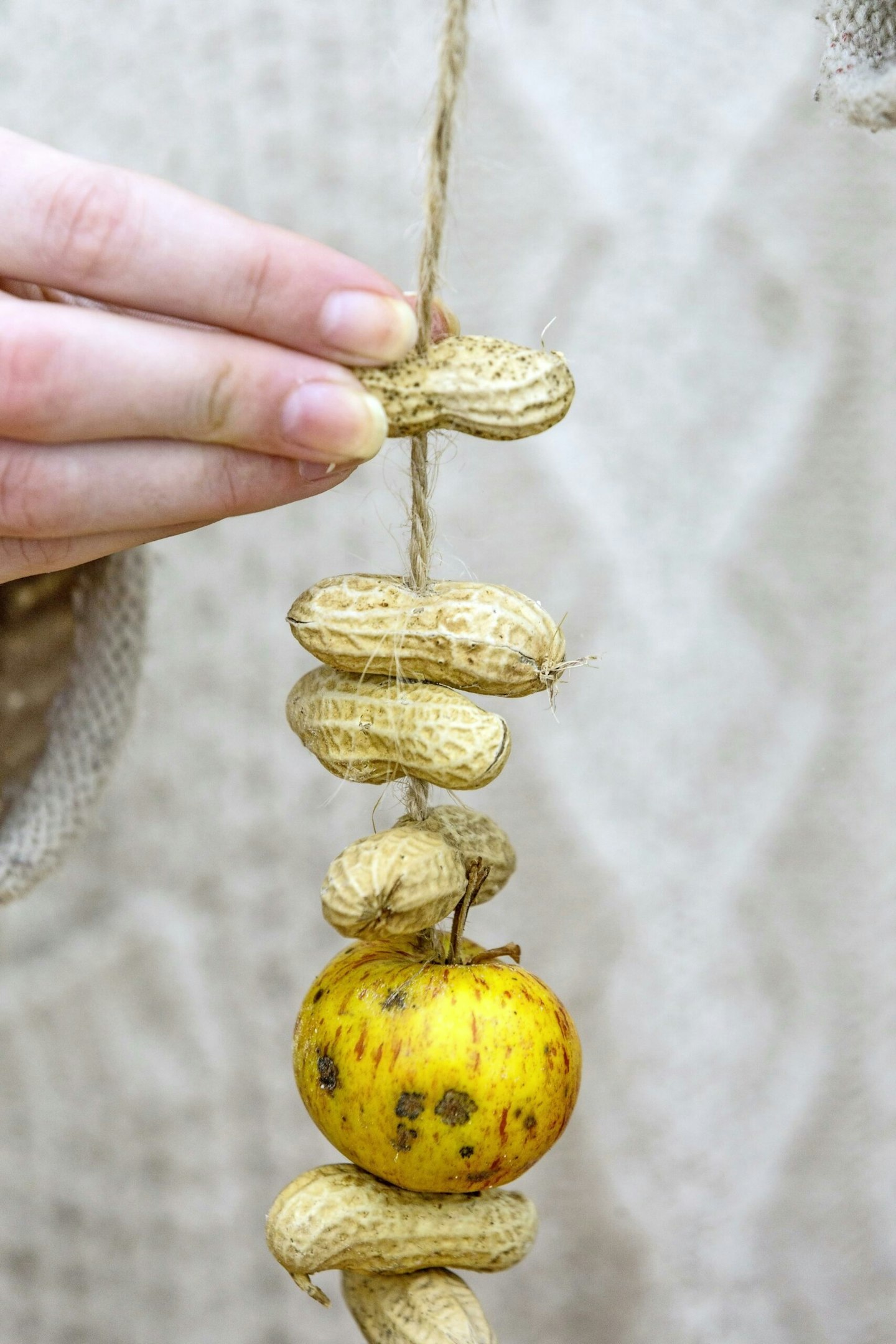 Step 2: More nuts and small apples are threaded along the twine. This is then tied to hang from the bird wreath feeder.
Fat stick holder
Step 1: Using a handsaw, a section is cut off a small branch.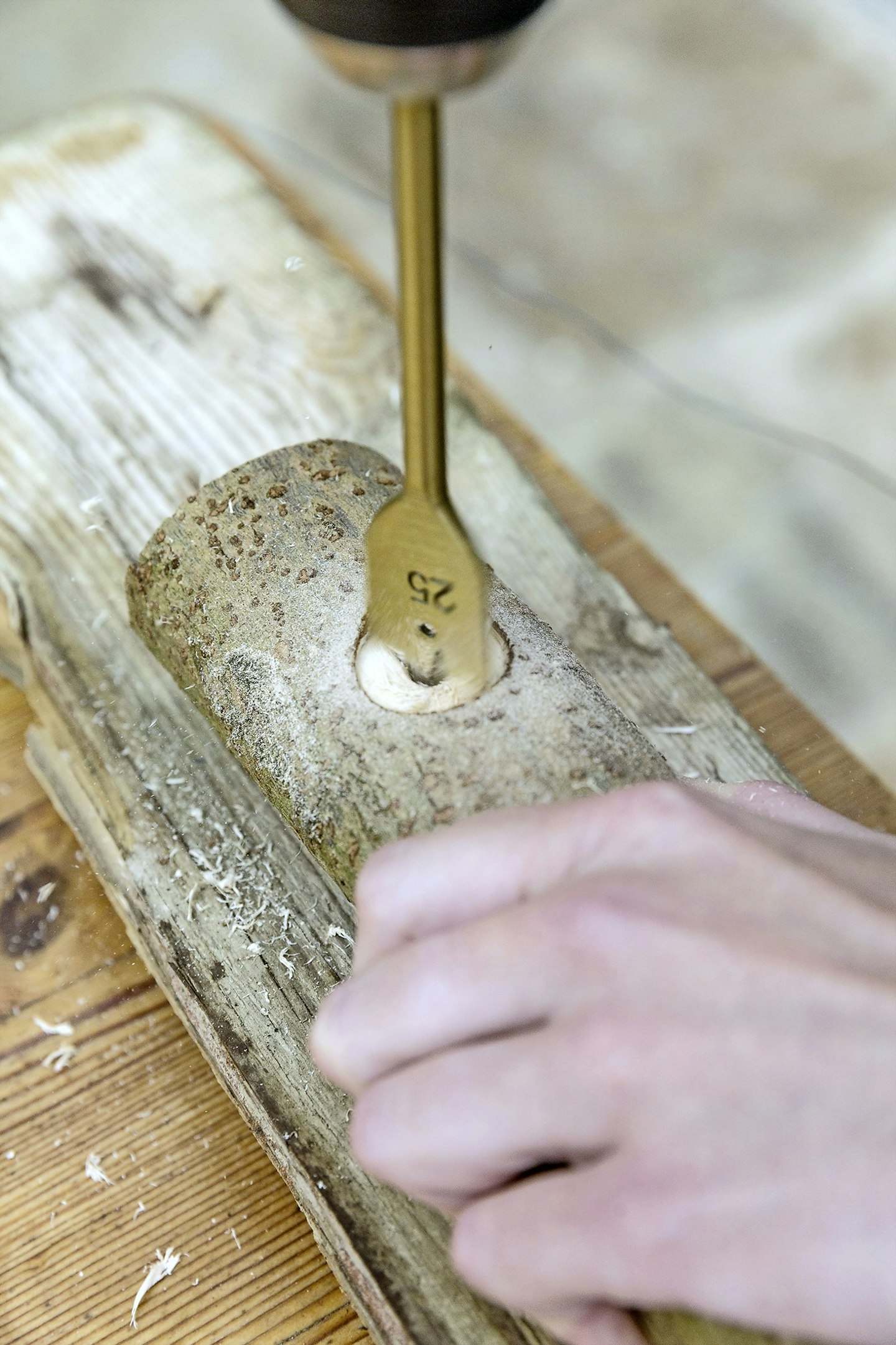 Step 2: Two holes are drilled through using a 28mm spade bit.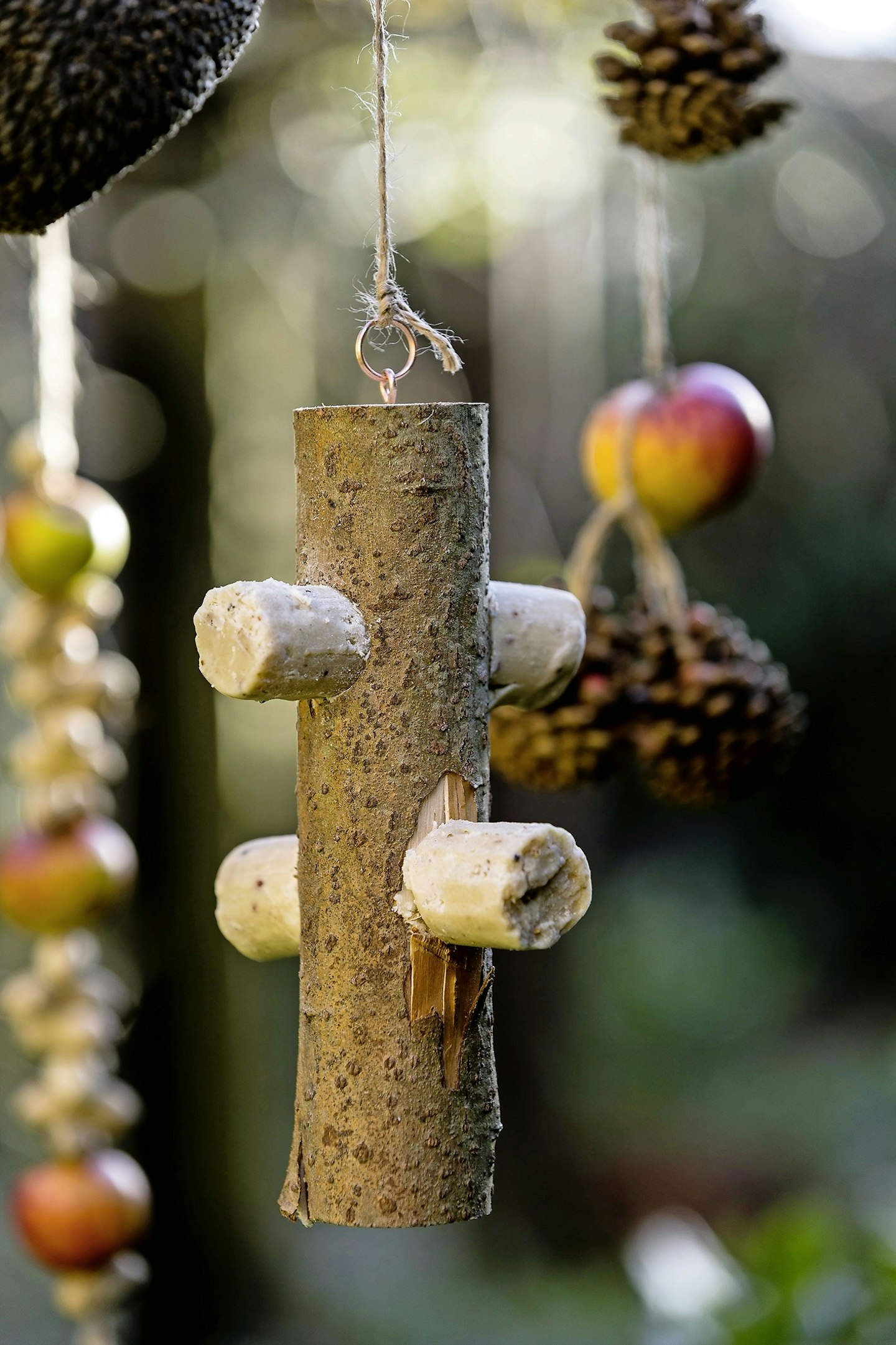 Step 3: The fat sticks are pushed through each hole, to stick out either side. A picture-hanging eye is screwed into the top of the wood and twine tied to the ring. This is then hung from the wreath feeder.
Feast in a roll
A good source of energy, fat sticks are excellent winter food for birds. Melted suet or lard is poured onto a mixture of ingredients such as seeds, nuts, dried fruit, oatmeal, and small pieces of cheese and cake. One-third fat to two thirds dried ingredients is the ratio recommended by the RSPB. The mix is stirred well in a bowl before half is transferred to a rectangular container, such as an empty foil tin. Sturdy twigs can be placed across the mixture approximately 1½in (4cm) apart to form a hard central core for the fat. These are then covered with the remainder of the mixture.
Once it has set, the fat is removed from the container and cut into rectangles. If twigs have been used, then care is taken to ensure one runs through the centre of each rectangle. Non-stick paper is wrapped round each rectangle and rolled slightly to form a log shape. The fat is allowed to set firm again before it is pushed through the holes of the branch.
Finished bird wreath feeder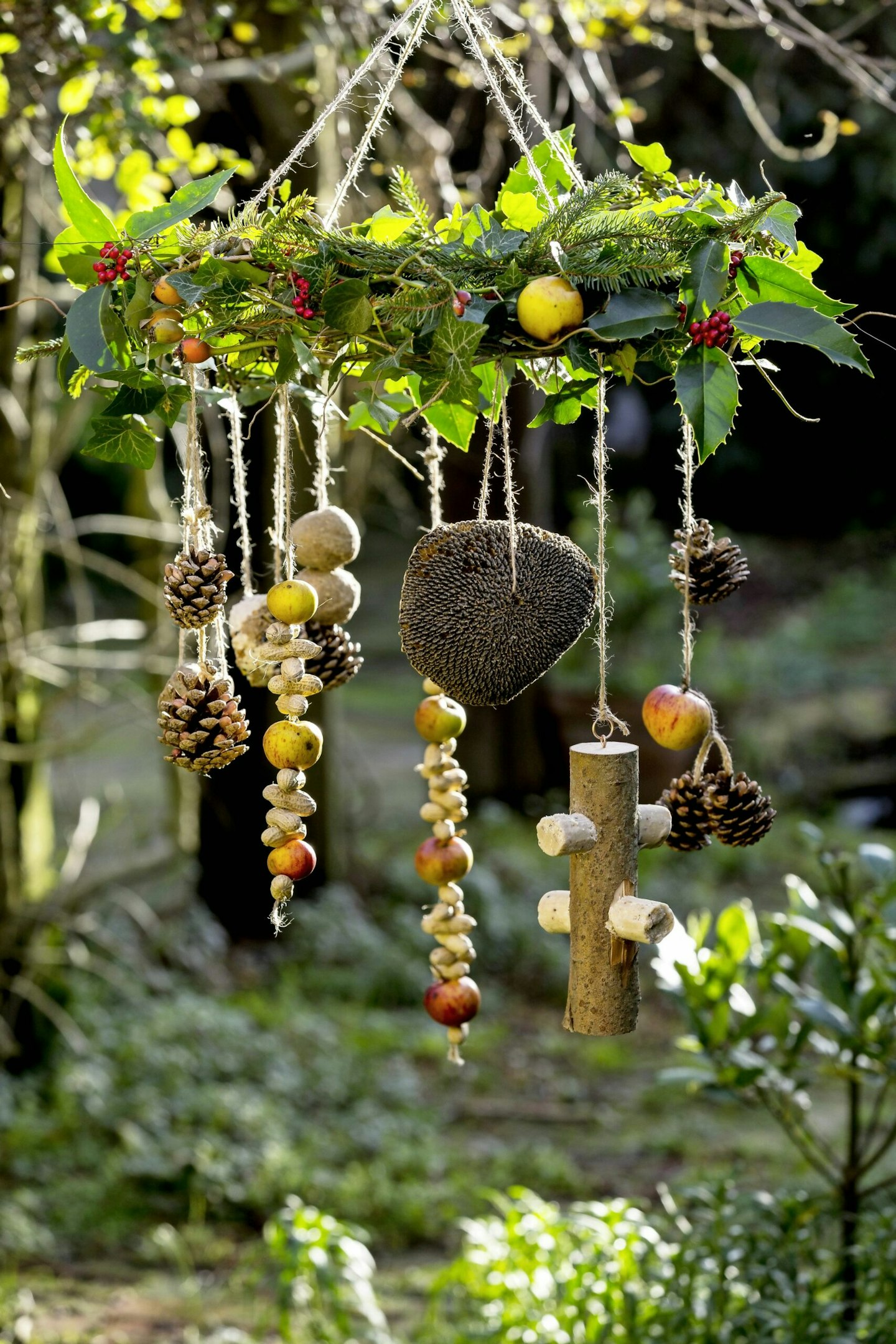 Project: Sue Martin; Photography: Richard Faulks
Every edition of Land_Scape_ showcases the best Britain has to offer, including delicious recipes, inspirational gardens and step by step craft projects. Become a Member from 99p today!